The Foodbuzz Festival this year was everything I hoped for (minus a few tummy aches here and there). It was filled with amazing  food, wine, friends, more food and a ton of laughter!!
Emily lives outside of SF and was so gracious to host Melissa, Megan and I on Thursday night. When we woke up she had the most wonderful breakfast ready for us, Fresh & Easy Pumpkin Muffins (addicted) and French Press coffee 🙂
We got all bundled up and then took the BART into the city!
We decided to go all out while on vacation and enjoyed a fancy Italian Lunch in the city!
We were told that Scala's Bistro's was the place to go, they were so right!
Megan, Emil  and I split a half bottle of the Rocca Delle Macie Chiantu Classico 2008.
We also split a fig salad, yum! I just loved FIGS, why don't I eat them more often?? The cheesy toast on top was my favorite.
Our main dish was a pear, bacon and Gorgonzola salad… all I have to say is HEAVEN!
I am such a big fan of Gorgonzola and fruit on a pizza! I once made a peach, Gorgonzola and balsamic vinegar pizza it was nothing like this!
After lunch we met up with Mara andDianna our roommates for the weekend to check into the Hyatt. It was a Girls Weekend all the way!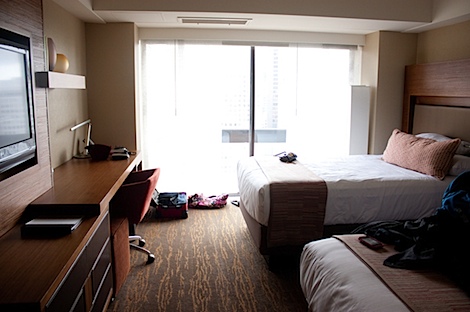 Then it was time to check in with Foodbuzz!
Gotta love the SWAG!
Then it was time to take on the windy city!
Bloggers unite!
Foodbuzz bussed us out to our evening event. When we walked in we started with a Sabra hummus display of all kinds of hummus and of course wine 🙂 This year was a lot more classy then the food trucks last year.
After we mingled awhile we headed upstairs to the main event where there was more food!
All the recipes were blogger inspired recipes starting with comfort food (loved Mara's meatloaf cupcakes) to sea food delicacies.
For the full menu you can check out the PDF—–> here
I also was delighted to sit next to the beautiful Jenna who is a delightful in every way! I have loved getting to know her she has been such a blessing to me! She won the Foodbuzz award for best cooking blog, go Jenna!
Of course our table had to take the cheesy shots too! I met Jessica from "How Sweet it Is", she was so nice!!! Love her blog 🙂
I spent most the night with a new blogger friend, Lauren from Whole Wheat or Bust!
Oh I almost forgot dessert!!! There was a creamy Italian Nougat, Valrhona Chocolate Ganache bite and some amazing Cheesecake on a Gingersnap Crumble. So delish!
This was only the beginning…