Last night I crawled in to bed WAY past my bed time! I still managed to get up at 8am and RUN! I took Bosco with me for the first 2 miles and then said my goodbyes and ran the last two alone. I have only been running once or twice a week since my marathon on December 6th and I think it's about time I stepped it up a notch. My legs feel a little tight, but completely recovered and ready for more.
I do love RUNNING, but when I train for a marathon I get a bit burnt out and always need at least a month or two to mix it up a bit before I start again. If I had to choose between running or kickboxing I would be in a tough spot! I love them both so much.
This mornings run was beautiful! I am so blessed to live in a state where I can wear a running skirt in JANUARY!
The reason that I am going into work late this morning is because I have a conference that I am checking people in to so I won't get off until late tonight. The conference is called, Women's Solitude. It's a time when women come up to the mountains to retreat from their busy lives to reconnect with God. I know MOMS probably LOVE this time alone, I am not sure how well this busy girl would do?
I had a little extra time to make breakfast this morning so I made a big batch of Oats that I can eat throughout the week. I followed a new Oat recipe that I found in my Jan/Feb Cooking Light Magazine.
It's different from how I normally make Oats because you add quite a bit of Wheat Germ. The texture turned out a lot different then I expected, it look more like Cream of Wheat. I am not the biggest fan of Cream of Wheat, but this was ok.
Banana, Wheat Germ, and Oats– From Cooking Light
"Wheat germ and oats make a perfect pair: You get the goodness of whole grains from the oats and a host of nutrients, such as vitamin E, iron, potassium, and folic acid, from the nutty wheat germ."
Yield: 3 servings
Ingredients
3 3/4  cups  water
1  cup  old-fashioned rolled oats
2/3  cup  toasted wheat germ
1/4  teaspoon  salt
1 1/2  cups  sliced banana (about 2)
3  tablespoons  brown sugar
1  tablespoon  butter ( I skipped butter and added AB)
Preparation
1. Combine the first 4 ingredients in a medium saucepan, and bring to a boil over high heat, stirring occasionally. Reduce heat to medium-low, and cook for 6 minutes or until thick and thoroughly heated, stirring occasionally. Remove from heat. Divide cereal evenly among 3 bowls. Top each serving with 1/2 cup banana, 1 tablespoon brown sugar, and 1 teaspoon butter.
Along with a cup of Joe
+ a grape fruit that we got from our neighbor 🙂
Instead of adding sugar to my grapefruit I tried some NuStevia that I won from a blog. I don't know much about this stuff, need to do some research. 
It did taste good not like an artificial sweetener at all! 
****
Chocolate Chunk and Walnut Oatmeal Cookie Recipe– Adapted from Health Magazine
**Preheat oven to 350 degrees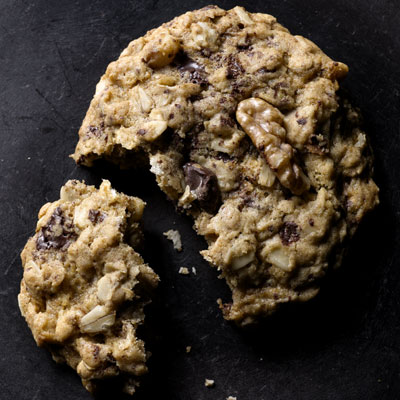 Melt 6 tbsp unsalted butter in a small saucepan over low heat. Remove from heat and add 3/4 brown sugar, stir until smooth. In a separate bowl combine 1/3 c all purpose flour, 1/3 c whole wheat flour, 3/4 teaspoon baking soda, 1/2 cups old fashion oats, and 1/2 tsp salt. Combine butter mixture with the dry ingredients and add 1 egg ( I added 2 egg whites) 1 tsp vanilla extract. Fold in 1/2 cup chopped walnuts and 3 oz of bittersweet chocolate ( I added Carob chips) coarsely chopped. Spoon by tablespoons onto lightly greased baking sheets. Bake for 12 minutes or until tops are dry to the touch.
Photo Credit- Health.com
***
Time to get ready!